MindsEye Beepball
 Baseball With An Amazing Twist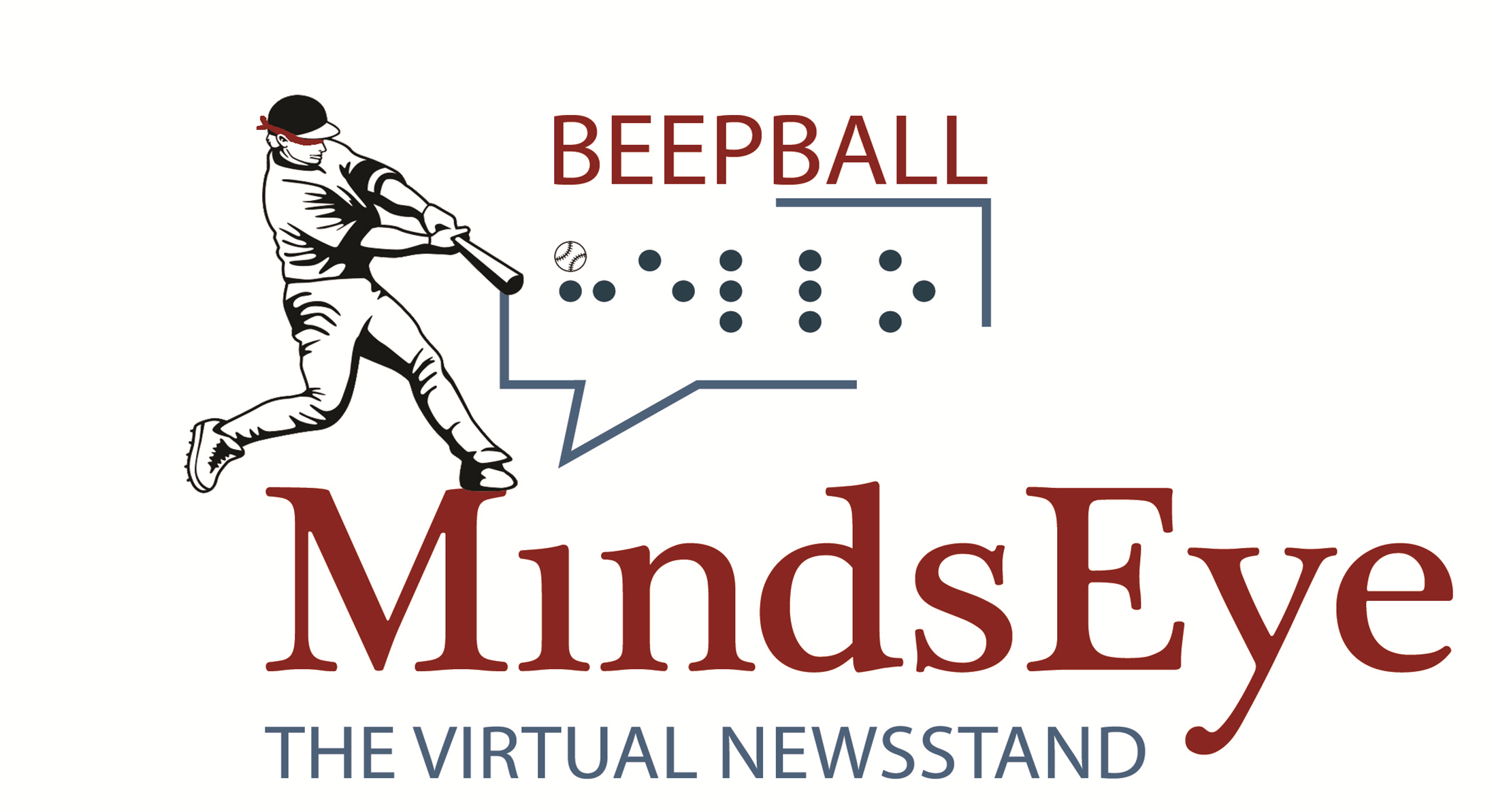 Described by blind athletes as "a dream come true," Beepball adds a spin on baseball that allows those who are legally blind to compete.
Players are guided by sound, not sight-- the sound of the beeping ball, buzzing bases, and cues from the pitcher. While the game provides unique opportunities for blind athletes, it also brings the blind community a step closer to ever sought-after acceptance and equality.
MindsEye's commitment to creating more of those moments into our community means that Beepball is no longer a one-day event! This venture is designed to get EVERYONE in the game.
Beepball is…
…an educational service to create awareness of the
visually-impaired community.
…an opportunity for team building and fun.
…a way to connect all citizens to Saint Louis's vibrant baseball community and heritage.
MindsEye Beepball Tournaments
MindsEye hosts two tournaments each year.
The Ultimate Beepball Tournament is held each summer and is a Competitive 16-team tournament.
2018 Champions - Lighthouse for the Blind, St.
Join MindsEye on Saturday, July 13th for the 13th Annual Ultimate Beepball Tournament!
Want to take a team to the field? Sponsor the tournament? Contact Mike Curtis at This email address is being protected from spambots. You need JavaScript enabled to view it. or call 618-394-6450.
Check out the 2016, 2017, and 2018 Ultimate Beepball Tournament festivities on Facebook!
In the Ultimate Beepball Tournament, everyone is blindfolded, except the pitcher and catcher. This unique sport brings together blind and sighted athletes in a day of fun!
How do you play baseball blindfolded?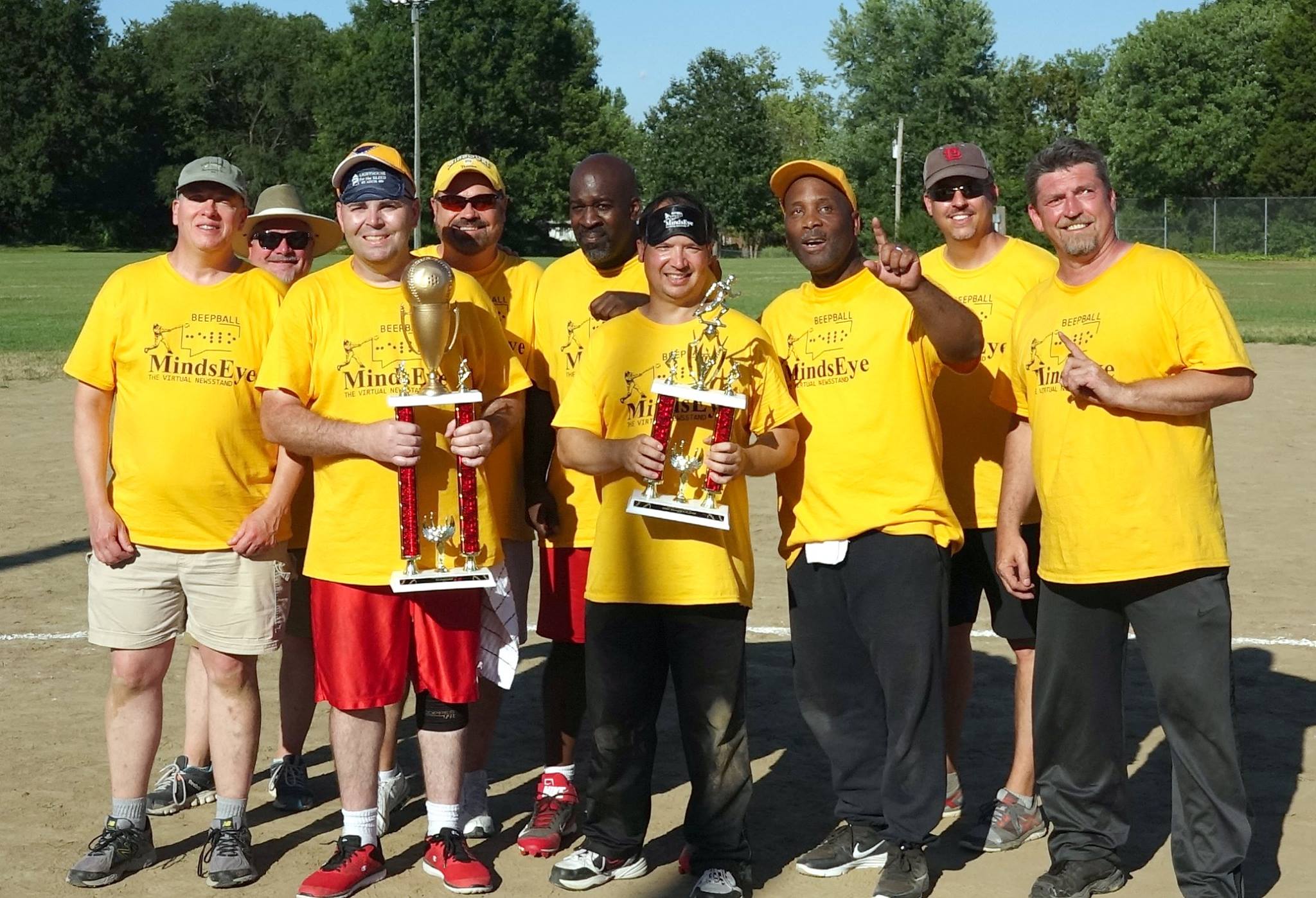 2018 Beepball Champs Lighthouse for the Blind Saint Louis!!!
The Beepball Fall Classic Tournament is a Competitive 8-team tournament comprised of some of the best Beepball teams!
2018 Champion – STL Firing Squad
"You have people of different ages, races, and abilities - all working together to have fun," Lina, Beepball athlete
 
A.J. is MindsEye's "Ambassador of Beepball." Here he is pictured with his parents after receiving his 2015 Vision for the Game award. A.J. promoted beepball at his elementary school where MindsEye hosted a beepball demonstration to help A.J. share the sport with his sighted classmates. AJ and his father John will be hitting the field together this year at our 12th Annual Beepball Tournament!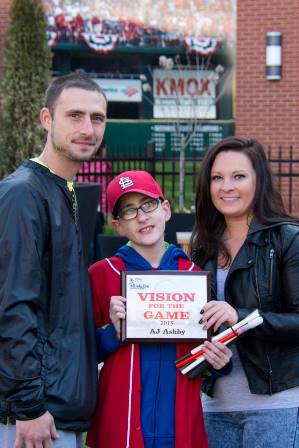 Educational
MindsEye is committed to making Beepball educational by doing demonstrations inside schools and institutions in the St. Louis Metropolitan Area. Whether its visiting schools like River Bend Elementary School, Webster University and the Special School District of St. Louis County, MindsEye is committed to teaching about inclusivity, blindness*, sportsmanship, and collaborative teamwork.
MindsEye is also educating people at events! Just this past year we helped dozens of people at events like the Great Grilled Cheese Off 2018 and STL Square Off Festival 2018 learn about the great game of Beepball.
Team Building
Want to have a fun way to do some corporate team building? How about a fun game of Beepball between a group of friends? MindsEye is available to provide all the equipment and staff you need to play a game of Beepball at your next event!
Contact Mike Curtis for more information about sponsorship and teams, and how to bring a Beepball Demo to your school or for your next  618-394-6450 or mcurtisThis email address is being protected from spambots. You need JavaScript enabled to view it.


Save
Save
Save
Save
Save
Save
Save
Save
Save
Save
Save
Save
Save
Save
Save
Save
Save
Save
Save
Save
Save
Save
Save
Save
Save
Save
Save
Save
Save
Save
Save
Save
Save
Save
Save
Save
Save
Save