Arts & Culture Accessibility Cooperative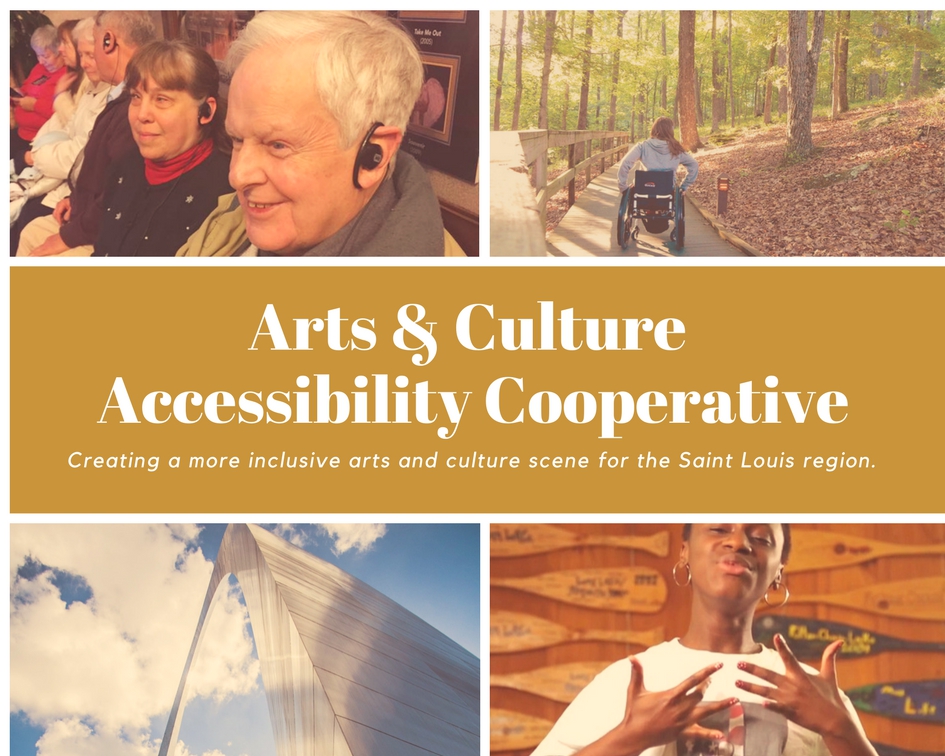 The Arts & Culture Accessibility Cooperative (ACAC) seeks to create a resource for the community that will allow us to continually move forward through discussions and committed work to create a more inclusive arts and culture scene for our region. We believe that Saint Louis's arts and culture community is for everyone and that everyone deserves access to Saint Louis's vibrant cultural landscape. Our mission is to empower our community to become more accessible to people with disabilities as visitors, patrons, artists, employees, and volunteers.
The ACAC is a volunteer-based group that brings together cultural practitioners, people with disabilities, and disability advocates to share experiences and learn from each other to create a more inclusive community. We are dedicated to increasing arts accessibility in the Saint Louis area and to facilitate a dynamic cooperative that strives to advance accessibility and inclusion across the Greater Saint Louis Area.
For more information, please contact Magan Harms at This email address is being protected from spambots. You need JavaScript enabled to view it. or call 618-394-6449
---
---
Ringing in 2020 with Accessibility: Successes of 2019 and Plans for the New Year
The Arts & Culture Accessibility Cooperative welcomed the community to the Missouri History Museum on Wednesday, January 22nd from 7:30 a.m. - 10:30 a.m for our first forum of 2020. 


Led by a panel of experts, this discussion focused on moving into the new year following the strides made in 2019.  The speakers were Liz Hill, the Director of Marketing at Stifel Theatre, Jennifer Smith-Simms, the Manager of Public Programs-Education Division at the Missouri Botanical Gardens, and Kris Krieger, the Autism Training Supervisor for Easterseals. A Q&A session followed the presentations.
This event took place in the AT&T Foundation Room.
ASL and Audio Description was available to attendees.
A light breakfast catered by Russo's was provided.


---
---
Website Accessibility 101 
Thursday, June 14th, 2018
Wells Fargo Advisors, St. Louis, MO

This session opened with a presentation from November Champion, who manages the Wells Fargo Advisors Online Accessibility Program and team. Following her presentation, attendees traveled through 4 stations utilizing assistive technology to demonstrate how those with various disabilities navigate websites.
Experts: November Champion, Sr. Online Accessibility Strategist and Assistant Vice President of innovation & Strategy;

Christy Herzing, Academic ADA Coordinator at Webster University; Kimberly Lackey, Director of Public Policy and Advocacy at

Paraquad; and Dr. Stephen Kissel, blind patron and accessibility consultant for Lighthouse for the Blind, Saint Louis.
---
Beyond the Entrance: Implementing accessibility features into exhibi

t design and more.
Wednesday, March 21st, 2018
Missouri History Museum, 5700 Lindell Blvd, St. Louis, MO 63112
A panel of local cultural administrators and advocates discuss program accessibility and Universal Design. 
ASL Interpretation sponsored and provided by DEAF Inc.
Audio Description provided by MindsEye.
---
How can we create an inclusive environment for people with disabilities within our community's arts and cultural spaces?
Wednesday, December 6th 2017
Paraquad, 5240 Oakland Ave, St. Louis, MO 63110
A panel of local cultural administrators and advocates open a dialogue on accessibility.
Moderator: November Champion
Audio Description provided by MindsEye.